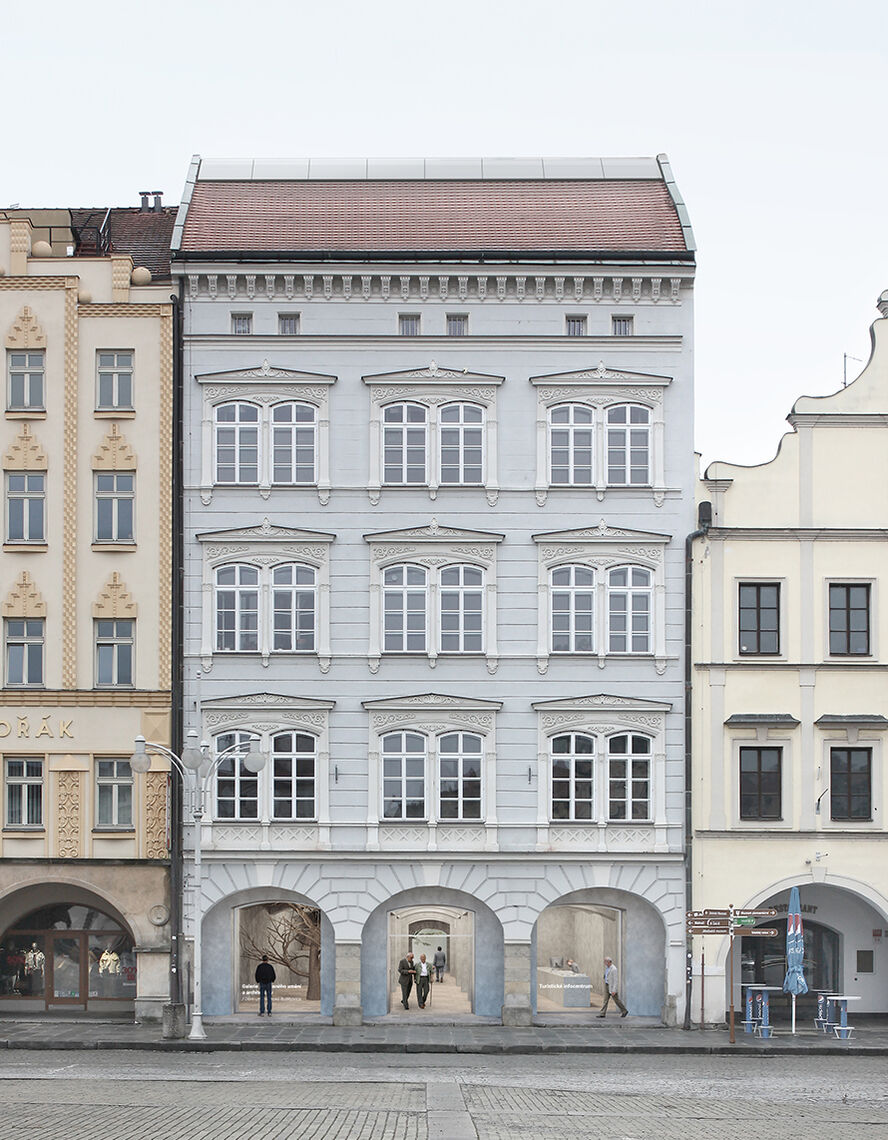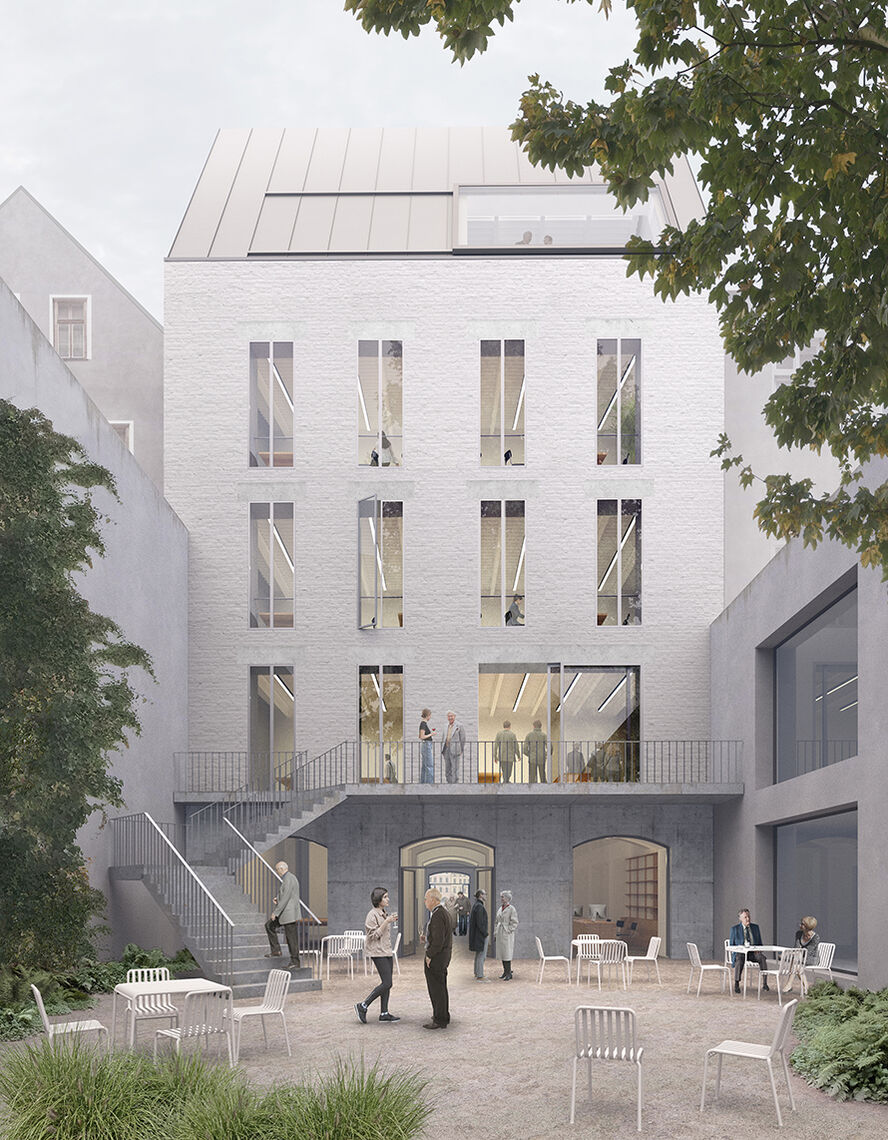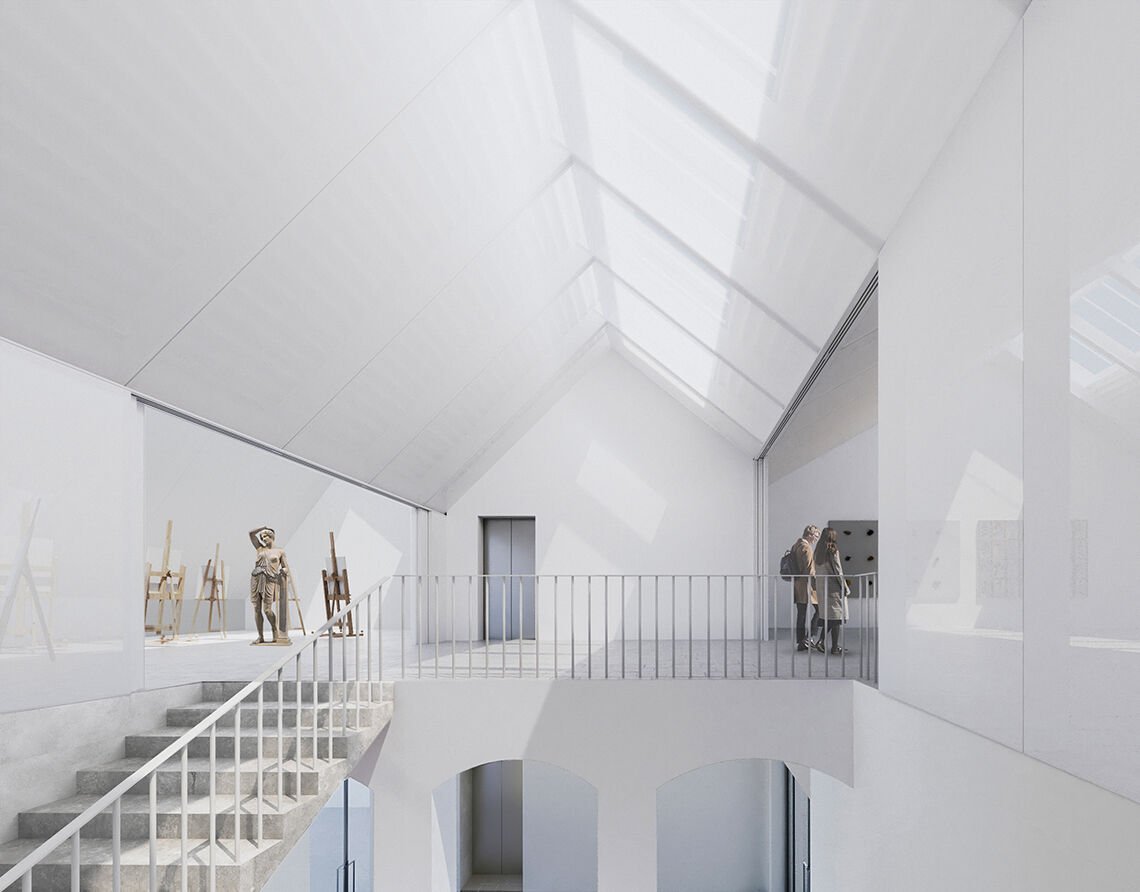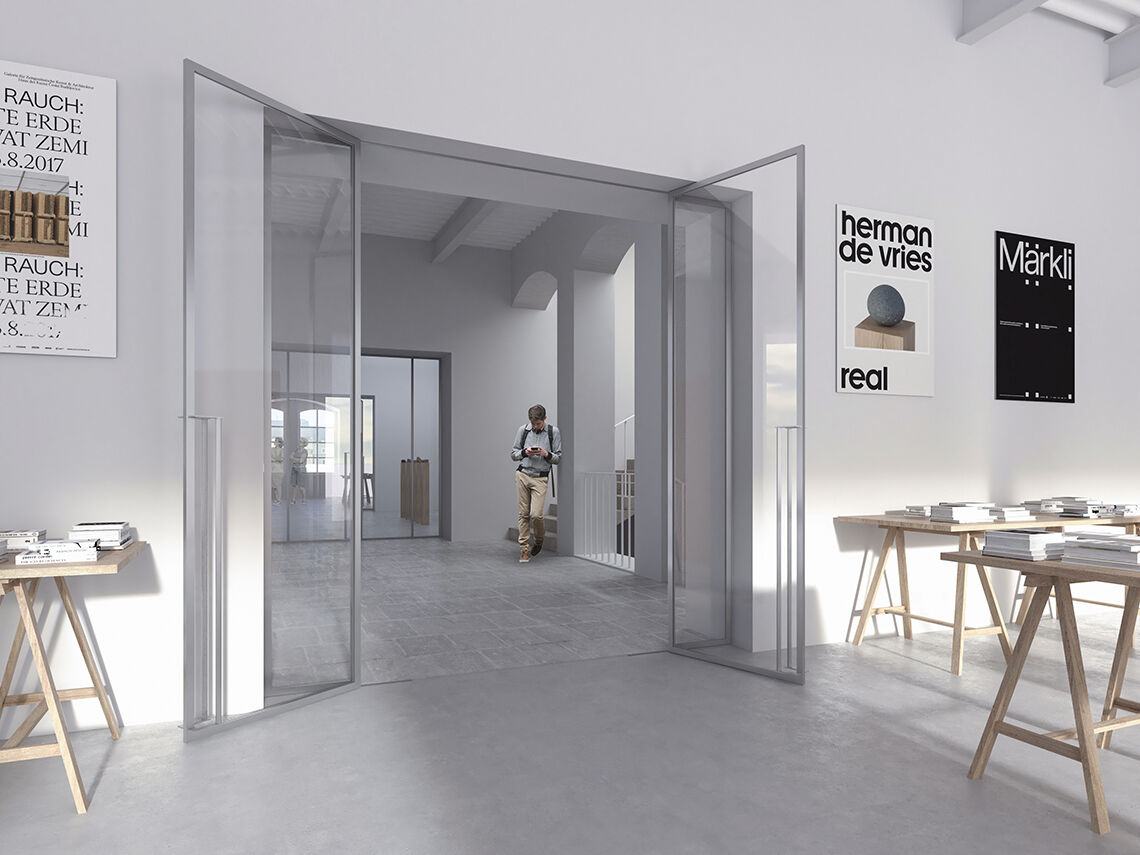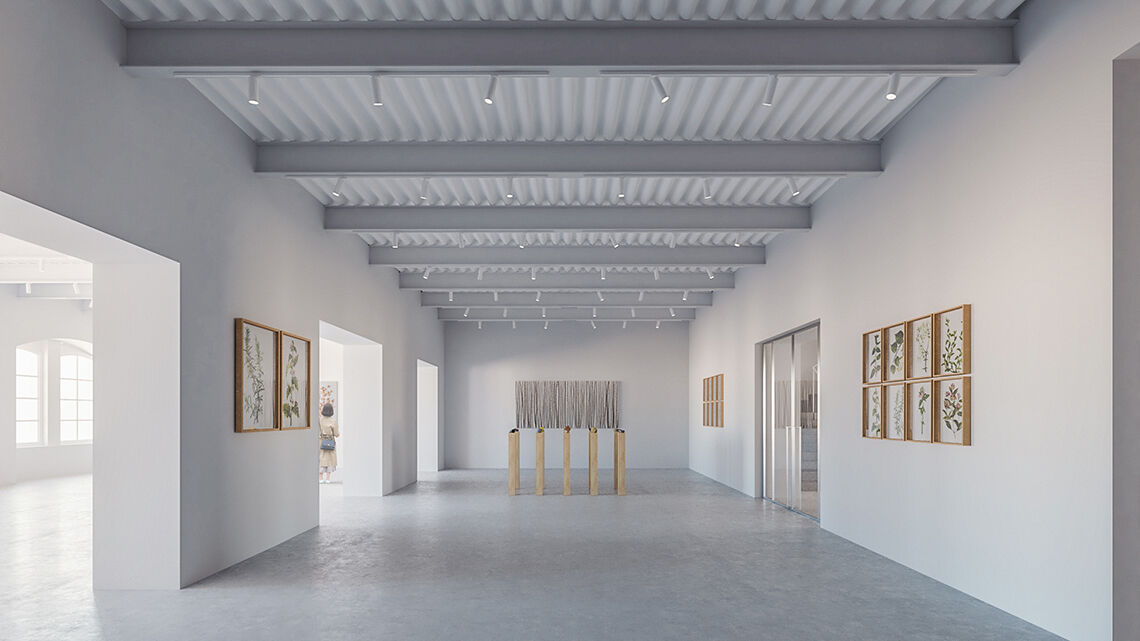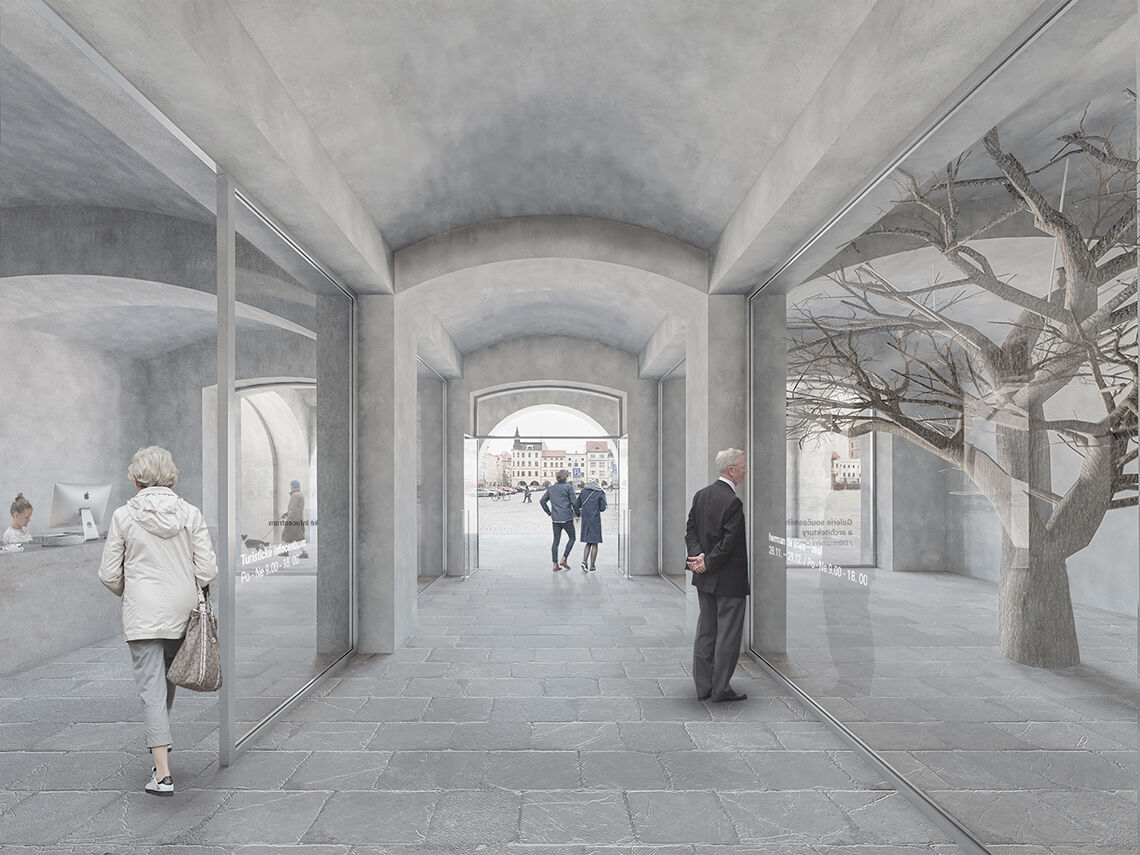 CENTER FOR ART AND ARCHITECTURE BUDWEIS_1.PREIS
BUDWEIS, CZ

WETTBEWERB BGF: 1.600 m2
COLLABORATION MIT MALY CHMEL, BUDWEIS
VISUALISATION ONDREJ ZVAK
The proposed ground floor is based on the current state, we replace the entrance hall with a central passage, which creates a public space inspired by the nearby passage between Krajinská and Česká streets. The passage runs through the entire depth of the house and opens up the courtyard, which we involve in the events in the house. The existing staircase is connected to the passage. On the ground floor, in accordance with the brief, we design public services and an information center. "Room for an art" is a space for art installations on the level of the ground floor inviting the wide public to the gallery space on the second level of the house.
On the second floor we propose an extension of the gallery. We add the rest of the floor to the current space - the southern space with windows into the courtyard. This part will serve as an entrance area with a bookshop, artshop and lockers. Also a new staircase from the courtyard will enter here, allowing alternative access to the gallery. The intention is to create an undisturbed exhibition space in part of the square. The connection of the two parts is proposed in the narrow corridor behind the core - a transition to the undisturbed world of the exhibition. The visitor can then leave the gallery through the existing door or return to the entrance area.
The open platform is a unique space under a new rooftop landscape for multifunctional uses - as an expansion of the exhibition space or galleries for young artists, for discussions and lectures, exhibitions of student architectural projects or aperos, all overlooking the city. We propose to open the adjacent courtyard with a passage to the square and connect it with the gallery through the living staircase. We assume that it will continue to serve the restaurant and become an attractive place for cultural events. We also propose surface treatment in connection with house modifications.
North facade towards the Přemysl Otakar II Square remains unchanged, we only suggest removing unsightly banners. In the roof plane, we propose the abolition of roof windows and their replacement by a skylight in the highest part. The south facade is lowered by one floor, the windows are raised to floor level and a new reinforced concrete balcony with a staircase is designed - this structure is carried out by a new reinforced concrete wall.